SPACER FOR POLE 
The spacer for our steel posts are made entirely of stainless steel. Easy and quick to use they totally eliminate the future labor.
Ø 2,5
"TRAVERSINA" FOR STELL POLE

SPACER FOR PRE-STRESSED POLE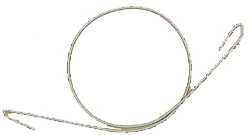 SPACER FOR CONCRETE POLE
Inox Ø 3 mm
SPACER FOR WOODEN POLE
Inox Ø 2,5 mm

Purely informative, the manufacturer reserves the right to modify the technical characteristics of the product at any time.